WHAT IS BAG ON VALVE ( BOV )
---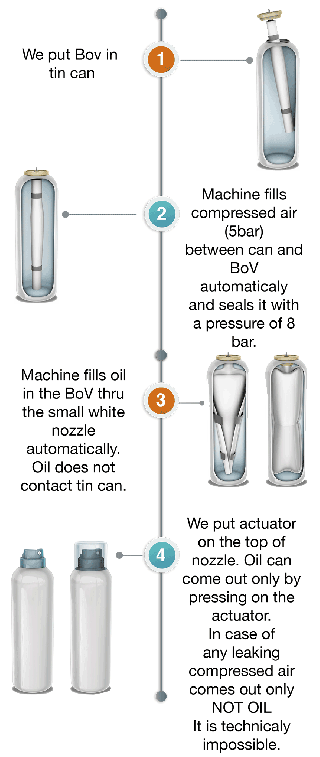 The Bag-on-Valve (BOV) is a high-tech and modern packaging system.
The system includes an aerosol valve with a welded bag.
LPG, DME, nitrogen or compressed air can be used as propellant.
We use only compressed air in our STAND Cooking & Baking Spray products.
The product is filled inside the welded bag while the compressed air is filled within the space between bag and can. The compressed air squeezes the bag, dispenses the contents out of the can, thus the product keeps its integrity, and remains separated from the propellant at all times.
BOV system is widely accepted by major multinational companies.Compared to the regular filled aerosol cans, the BOV has following benefits for the environment, consumers and manufacturers:
Used with eco-friendly compressed air
Hygienic and sterilisable
Up to 99% product emptying
Longer shelf life with less preservatives
Reduced spray noise
Less-chilling product discharge
Effective filling process
Complete separation between the product and the propellant (no air / no product degradation)
Long-term product conservation in the bag (no contamination / no or less preservatives required)
Ability to be sprayed in any position (3600 use)
Non VOC (Volatile organic compound) system